Etter å ha vevet mest frem og tilbake og organiske former ville jeg prøve meg på grafisk mønster. Jeg valgte de fargene som jeg har dilla på for tiden; grått, rosa og offwhite, og la en halvveis plan for hvordan jeg ville at bildet skulle bli. Jeg planlegger bare delvis hvordan jeg vil at det skal se ut til slutt, for jeg endrer alltid på det underveis allikevel.
///
After mostly weaving «back and forth» and with no pattern, I decided to try something graphic. I chose the colors wich I have a crush on nowadays; pink, grey and offwhite, and made a partial plan for what the weaving should look like. I never plan the weaving 100 % because I always change it as I go anyway.
///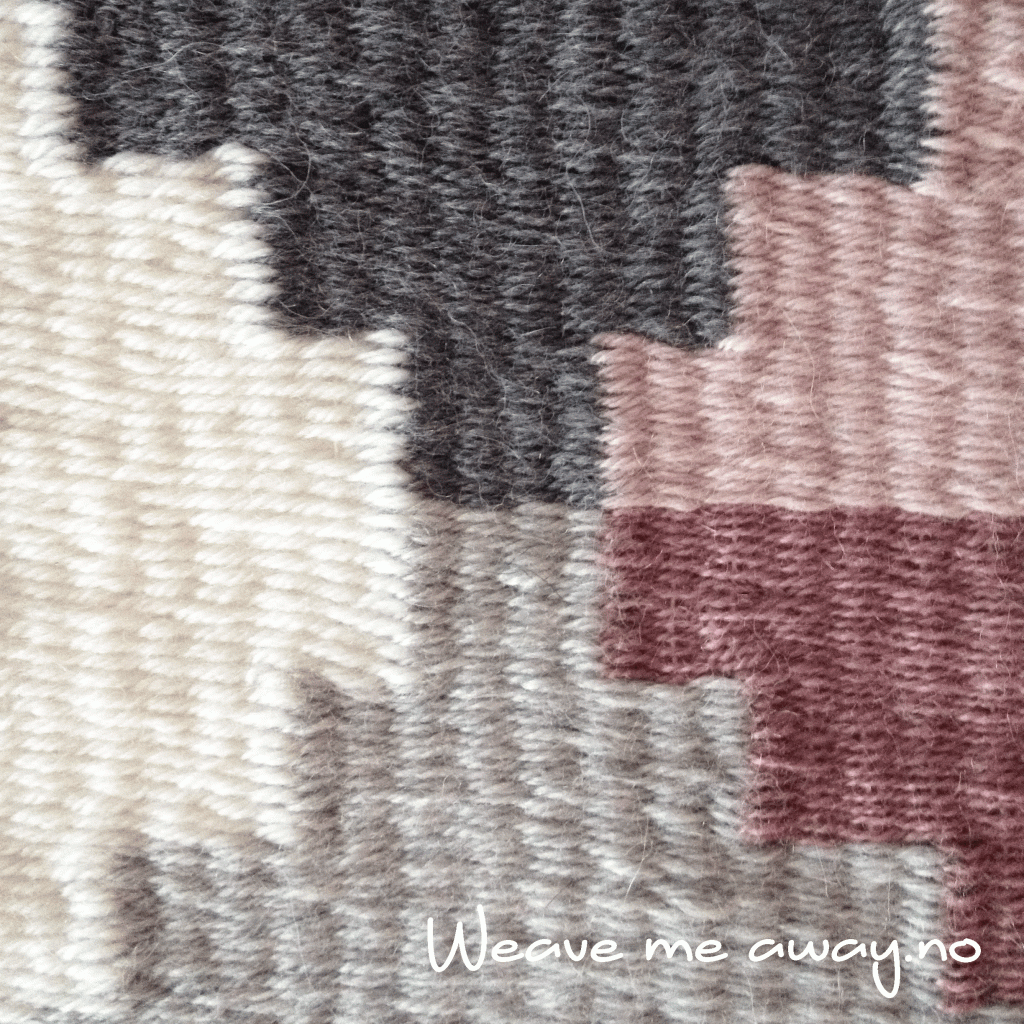 I bunnen av bildet ville jeg ha litt tyngde og kontrast til det flatvevde mønsteret, og prøvde meg på loops. Jeg brukte en type garn som varierer mellom tynt og tykt. Loops gir en veldig fin effekt, men en ser det tydeligere om man bruker et enklere garn som ikke er så fluffy som det jeg brukte. Under er et bilde som illustrerer hvordan denne teknikken utføres.
Så var det det grafiske mønsteret. Jeg valgte trappemønster som danner trekanter, og brukte forskjellige farger og nyanser på de forskjellige feltene. Først vevde jeg det lysegrå feltet. Jeg talte omganger slik at jeg fikk like mange på hver avsats før jeg gikk videre til neste «trappetrinn», og slik at jeg hadde en oppskrift å følge for at alle formene skulle bli like. Deretter fylte jeg inn det offwhite feltet, før jeg fortsatte med mørkegrått og rosa. For å knytte formene sammen måtte jeg bruke en type interlocking/ sammenveving (som vist på bildet under).
///
For the bottom of the weaving I wanted a contrast to the graphic pattern and tried out loops. I didn´t really know how to back then (I´ve figured it out now) but I made some kind of loops anyway ;) I used a yarn that varies between thin and thick, and it´s maybe not the best for making loops (I would recommend something more simple and less fluffy).. So it´s hard to see that it actually is loops that I´ve made, but I got my contrast though. Below you can see an image of how it´s done.
So to the graphic pattern! I chose a square triangle pattern, and used different colors and shades on the different sections. First I did the section in light grey. I counted the rows so that I had a recipe to follow throughout the pattern to get it even. When done with the light grey I filled in the offwhite section, followed by pinks and dark grey. To tie these sections together I used interlocking as shown in the picture below.
///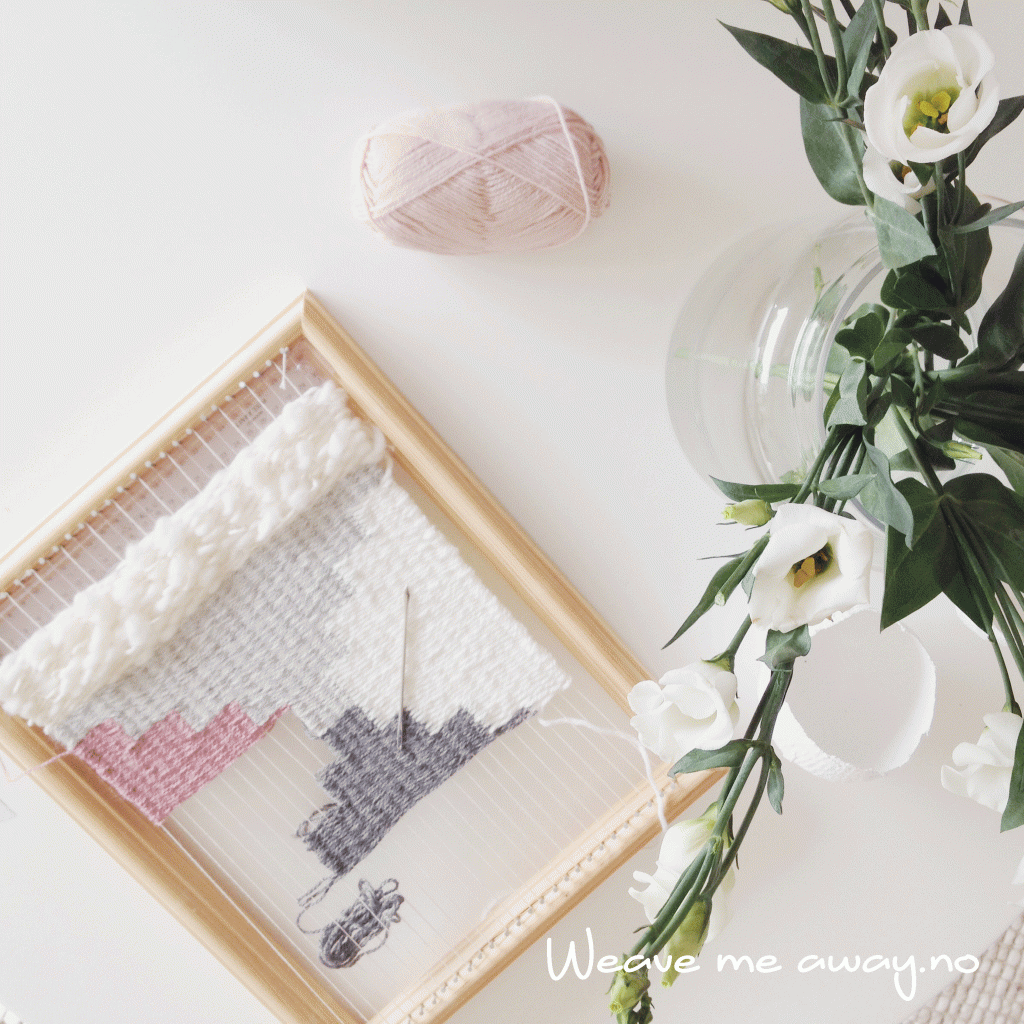 Jeg fant ut at det var greit å jobbe med flere fargefelt samtidig for å få en mest mulig jevn veving uten at bildet drar seg. Vær også obs på at når du vever kan det lett stramme seg inn på midten slik at sidene blir buet innover.
///
I figured it was a good idea to work on multiple colorsections at one time to get a smooth and even result without the weaving skewing. Pay extra attension to the middle section of the weaving as you go, as it tends to shrink so that the edges get curved towards the center.
///
Det rosa garnet jeg brukte var tynnere enn det grå, og jeg måtte derfor veie opp for dette ved å ta annenhver to omganger og annenhver én omgang for å jevne det ut og få det likt i høyden med det grå feltet.
Når du skal henge opp bildene dine kan du enten feste det så det henger fra en trepinne, ståltråd, rør eller lignende, eller du kan lage et skjult oppheng på baksiden. Da tar du en ståltråd som du lager to øyne i endene på, og deretter tråkler på baksiden av bildet (pass på at stingene ikke blir synlig på fremsiden). Du kan velge om du vil tre en snor gjennom øynene på enden og henge bildet opp med denne, eller å tre ståltråden direkte inn på en stift i veggen slik at opphenget blir helt usynlig.
///
The pink yarn I used were thinner than the light grey, so I had to compensate with extra rows: for every other grey I had two pink. This way I got the pink section matching the grey.
When hanging your weaving onto the wall, you could use a wooden dowel, a pipe, wire, a branch or whatever you like really. I like to make a hidden suspension on the back of the weaving, using a wire stiched to the back (make sure you dont´t see the stiching on the front). You can then choose if you will use a thread and hang the weaving from this, or to hang the wire directly onto a nail in the wall for a completly hidden suspension.
///
Happy weaving! :)
/Anne